For Immediate Release
Contact Shelly Sindland
CEMA
shellysindland@ctema.com
860-992-9045

STARTING JULY 1ST, A NEW STATE LAW WILL CHANGE THE WAY HALF OF CONNECTICUT RESIDENTS HEAT THEIR HOMES!
Used Cooking Oil From Restaurants, Along With Other Food Waste, Will Be Mixed With Traditional Ultra Low-Sulfur Heating Oil For A Greener, Cleaner, Renewable Fuel
On July first, a new Connecticut state law will require all home heating oil to be blended with this new, sustainable, green liquid fuel called biodiesel which is made from discarded food waste and grease.
Biodiesel is made right here in Connecticut from restaurants and suppliers in the region. It turns discarded cooking oil and grease into a processed safe, clean-burning fuel. American Green Fuels is the largest biodiesel producer in the Northeast and along the Eastern seaboard! It is located in New Haven.
Biodiesel is great for the environment and reduces greenhouse gas emissions by 80 percent!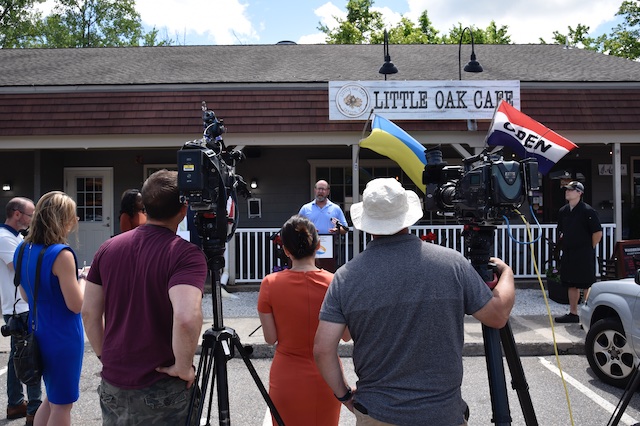 Canton, Connecticut: At The Little Oak Cafe in Canton, restaurant owner David Borselleis flipping burgers and bacon while helping to turn that used grill grease into fuel to heat your home.
"It's a win/win for everybody," Borselle said. "It's good for the company and it's good for us. It's important that we are not wasting anything and keeping this used cooking grease out of the water and landfills."
Before most restaurant owners had to pay someone to take away used cooking oil andgrease, now they are the ones getting paid for it.
"It's not much but even if they weren't paying me, I would still do it because it's good for the environment, and I am comfortable knowing where it's going, " Borselle added.
From restaurants like Borselle's in Canton, the used cooking grease ultimately makes its way to a processing plant where it is turned into a safe and clean burnable fuel called biodiesel. Biodiesel is then mixed with ultra low sulfur heating oil to make Bioheat fuel!
"I'm very optimistic about the future of our industry and what we have to offer, and just making changes to the environment and contributing to a greener, cleaner, future," said Nickey Kollie, director of Legislative Affairs & Member Services at Connecticut Energy Marketers Association. (CEMA)
CEMA, a trade organization that represents more than 600 locally owned and family home heating oil companies in Connecticut, wholeheartedly supports this new state law which will ultimately change the future of the industry!
(Public Act 21-181) Starting July first, all home heating oil must contain a 5% biodiesel mix, which will go up to a 50/50 mix by 2035. Most home heating oil today already has a 7% biodiesel mix but this new law will guarantee a statewide standard.
"The Fourth of July is our nation's Independence Day, and this year, July first is Connecticut's first step to our independence from foreign oil." Chris Herb, President and CEO of CEMA.
Herb said that ultimately home heating oil will be replaced by 100% biodiesel fuel, and that the technology is already here to do it. While some wonder if there is enough used cooking grease to go around, Herb said discarded soybean oil can also be used.
"American farmers feed the world!" Herb said. "There is plenty of discarded soy bean oil to go around. By upping production of biodiesel, we are becoming independent of foreign oil while recycling waste that would ultimately end up in landfills! Biodiesel is great for the economy. It's great for the environment, and it's made in the U.S.A!"
Stephen H. Sack, Jr., owner of the West Hartford based Sack Energy, is one of the largest biodiesel distributors in Southern New England.
"It is the direct replacement of fossil fuels that can be used in current equipment and have a very large reduction in greenhouse gas emissions for no added cost. It's a very economical way to reduce greenhouse gas emissions," Sack said.
Sack, a fifth generation owner in the family business, said his company has been in business for more than 100 years and has evolved with the times: from coal, to heating oil, to ultra low-sulfur oil and now biodiesel.
"Like any industry, we are making a better product for the environment and consumers. This is the next step, making a low sulfur fuel that will work with your current equipment. The State of Connecticut can use it in its transit buses. You can use it in your house for heating oil replacement. You can use it in a diesel vehicle, in school buses," Sack said.
Half the homes in Connecticut already heat with liquid fuels. Using biodiesel is a cost effective way to reduce carbon emissions.
"It's sustainable! It's green! It's locally produced. It comes from plant-based products and used cooking grease. This is the essence of what's good for Connecticut's economy because it's creating jobs and giving local benefits. We don't have to build a wind farm off the cost of Massachusetts to bring clean electricity to Connecticut when we have biofuel being produced right here in Connecticut, from Connecticut restaurants, and used soy bean oil,'' Herb said.
Change that is happening today and not decades into the future.